I make it a part of my daily routine…
I participated in the Total Me Zone yoga program at the Cov. At first I didn't like it, but now I make it a part of my daily routine. It really helps me start the day, remain focused, and relax at the end of a stressful day.
- Covenant House Participant
Sunshine finds peace of mind through Meditation
At the Veterans Affairs Medical Center (VA) in Detroit, we support veterans who are suffering from trauma due to their service. These courageous individuals sacrificed for us and their country. Sunshine found our free program for veterans suffering from trauma at the VA. She feels calmer, less anxious and better able to focus, and her progress keeps her coming back. For Joan, yoga is survival training for mind, body and soul.
"I have found at times of physical and emotional stress, I am able to lay in 'rest pose' and relax. This is far better than taking a pill."
-Sunshine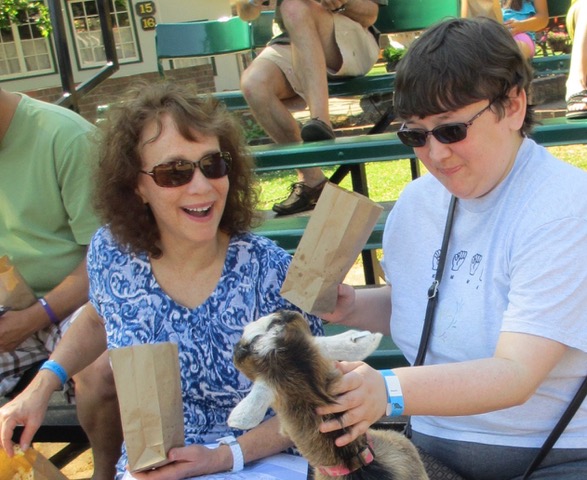 An Expression of Gratitude from the Mother of an Enhance Yoga Participant
I am the mother of a 34-year-old daughter with physical and intellectual disabilities.
My daughter, Emma, is most fortunate to attend yoga classes sponsored by the Yoga by Design Foundation at Enhance. Enhance is a social service agency providing services to help my daughter and similar individuals, live healthier, more independent lives. The classes are tailored to the students' unique needs with the instructor skillfully guiding each student according to their ability. Since its inception, my daughter has found great joy through the YBDF yoga program.
On occasion, I have stayed to observe my daughter in the yoga class. I am so impressed by the YBDF Instructor, Rebecca Roman, who deftly motivates & guides the group of women, all of whom have multiple disabilities & some with mental illness.

My daughter has truly benefited from yoga:
She has gained confidence and her balance has improved.
She is more aware of her body and where it is in space.
She has also learned to use a simple form of meditation to help her though times of anxiety and stress.
Recently, I was out and about with Emma and we ran into one of the other participants in the class. Without prompting, she told me: "You know how I used to get mad all the time? I don't do that anymore. I use my yoga breathing instead!"
On behalf of my daughter Emma and her friends at Enhance, I want to thank all those who support the Yoga by Design Foundation. The people served by the Yoga by Design Foundation are often overlooked by our society at large. These are the very people who, perhaps, can benefit from yoga the most.

Again, thank you to this Foundation and all those who support it's work.
Chris Hench,
Emma's Mom

Mastering Mindful Bodies with inMind
This is a great program - helping me every day in my life and in class. I have tools to manage my anxiety by using the heartfulness, kind-thought meditation and I share this practice with the students.
- Nancy, Pleasantview Elementary School Teacher,, January 2019
Learning to trust oneself and others…
Vista Maria is a residential foster care facility for traumatized at girls located in Dearborn Heights. I have been teaching yoga to the girls since July 2018.
During our first class, I asked the girls to close their eyes. One young lady asked, "Will I get punched in the face?" Can you imagine the traumatic experiences that child has had to allow her to utter those words? Since the program has begun, the girls' self-esteem, respect for one another and communication has noticeably improved.
-Julie August, Instructor
"As a victim of torture and persecution, I wake up nightly with nightmares and flashbacks. The visualization and breathing techniques I practice weekly in yoga class are the only way I can calm myself, clear my mind and go back to sleep. My depression and guilt have lessened and I am now able to focus on becoming an American citizen: giving back to this amazing country which has saved my life." ~ Issa